Here it is, chapter two.  You may notice a style departure from last chapter, that's because I did a poll on what kind of style changes you guys wanted to see and it was rather even.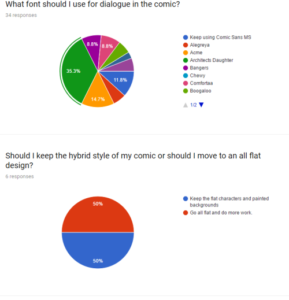 The choice for a font was rather straightforward, the choice if I should ditch the painted backgrounds for something a little more flat to complement the characters…not so much.  I decided to be the tiebreaker and added the winning tally for flats. So now that's what we have here.
On a related note this image is available in high quality with or without text on my patreon.
With text: https://www.patreon.com/posts/chapter-2-rocky-10514222
Without Text:  https://www.patreon.com/posts/10514834
---
Speaking of images you can download, you can totally download the comics new background for free at http://secrets-of-the-forest.xyz/downloads

(Though if you want to see what could be next before anyone else you can download the sotf comic windows theme from here https://www.patreon.com/posts/updated-sotf-8859619 *cough cough*)